About Us
The Ryde 135/Barn Quilt Committee is a group of dedicated, hard working volunteers operating under the umbrella of the Ryde Community Co-op. Ryde is a formerly independent township that was incorporated in 1879, but is now amalgamated into the Town of Gravenhurst.
The committee was formed to organize celebrations for Ryde's 135th Anniversary. August 16th 2014 was chosen as the main date for the Ontario Doors Open event, and all of our culminating activities.
At our first meeting, one of the original members of the committee introduced the novel concept of barn quilts. We immediately saw this a way to promote our event and our isolated rural area, while honouring the legacy of the pioneers who settled the area. With boundless energy and enthusiasm, but no experience, we forged ahead, working solidly as a team, to create our barn quilt trail.
We knocked on a lot of doors and received generous support from local businesses, our municipal government, and friends and neighbours. We learned as we went along, with a few bumps and bruises along the way, but as the quilts started to take shape, and the first ones were mounted in all their beauty, we were thrilled to see the results of our labour.
This website is central to our promotion of the trail. Please share it with friends and family and encourage them to turn off Highway 11, follow the Doe Lake Road, and visit our Barn Quilt Trail. It is a paved loop of road, (with three short spurs) that will take about 40 minutes of driving time.  We hope you will want to "stop and smell the roses" a little and get a sense of the geographical, social and cultural context in which the quilts have been placed.   You'll need more than an hour to do that. You will see why we take PRyde in Ryde!
We encourage you to share your comments with us using the contact link below.
On December 5th 2013, the Ryde barn Quilt Trail was featured on CTV Barrie's newscast.  They gave mention to the quilt trail and this website.  To view more on the newscast, click on the image below.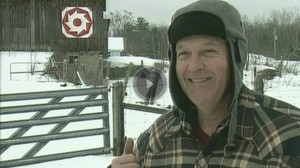 On January 8th 2014, What's Up Muskoka did an article on Ryde Community.  Click on the images below to view the article.
We continue to add photographs and update our website. Please enjoy!